Artistry of cooking: The world of Arthur Dawson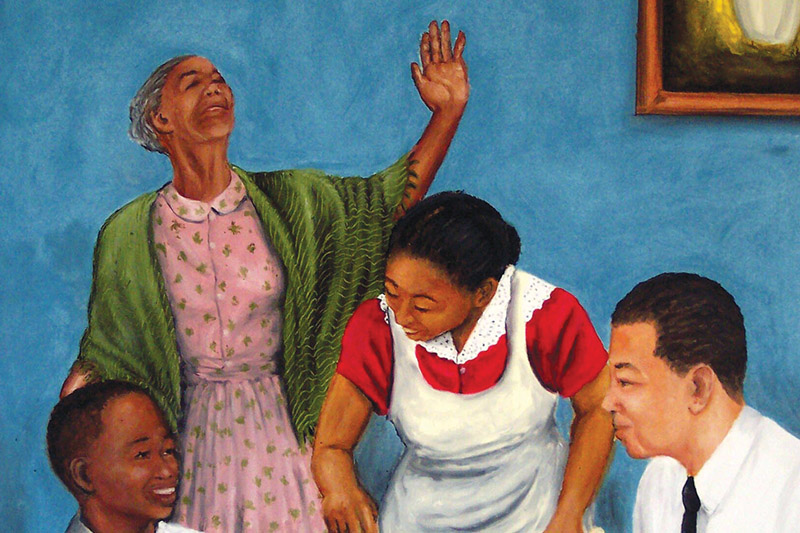 BY JOYCE NANETTE JOHNSON, Staff Writer
ST. PETERSBURG — Arthur Dawson is an artist that takes the seemingly mundane moments of life and brings a new vision into them. His diversity of materials can range from bold acrylic color to soothing watercolors, and then his hand can shape clay, wood and metals into glorious sculptures.
"I work in all mediums, it just depends on the subject matter," he explained. "Life inspires me. I'm always looking out for anything I find cute, funny or serious."
Dawson feels that each person personally interprets art. He was insistent that no one should tell you how to view art and that art "speaks a different language to each person. My approach to art is something that can't be termed," he said. "I use unorthodox methods to achieve my goals."
Dawson compares most of his artwork to emotions. He described his piece "Royal Motion" as a circle of life or direction. In "Praise and Peas" it is the feeling of joy and in the drawing "Blue Line," Dawson explores the emotions of joy and pride within the genealogy and history of the black race.
He began drawing at the age of six when he and his two older brothers sketched and wrote their own comic books. Young Arthur's comic was called "Super Arthur." Through the years his work has been exhibited nationally including Daytona Center for the Arts and the Jenkins House in West Palm Beach.
In 2006 he founded Youth Arts Program (Y.A.P.) in Orlando. The word "yap" is slang for talk and that's what the program is designed to do: "get kids talking or yapping about arts." It is a 40-week program for grades 6-12 that gives children in underserved areas an opportunity to be exposed to the creativity of art. The curriculum includes courses in painting, sculpting, graphic and textile design and cartooning.
His latest project, "Artist Creations Cookbook," features culinary recipes and artwork from nationally and internationally known master artists. His interest in cooking was ignited at an early age. After his father and mother divorced, he and his brothers were basically raised by their father and were instructed in cooking, washing, and cleaning. "He wanted to make sure we could take care of ourselves," Dawson explained. Soon Arthur saw the connection between artwork and the preparation of family meals. "I saw creation in the kitchen."
The book came about when Dawson painted a piece he called "Just Right" in 2000. It shows a chef savoring his latest, tempting creation, confirming the deliciousness that seems promised.
Then in 2013 he began to produce the book that partnered both his love of cooking and his artwork. Dawson discussed the development of the book with his friend and fellow artist Larry "Poncho" Brown who was excited by the concept. He immediately stated that he wanted to be part of the book and to have his own artwork and personal recipe included.
Brown was also instrumental in reaching out to other artists about the book. The culmination was the collaboration of 27 artists' paintings and recipes from around the world including Ghana, Nigeria, Segal, Haiti, and Jamaica. Some of the renowned artists include Jonathan Green, Paul Goodnight, Gilbert Young, and Annie Lee among others.
"My desire is for people to understand their position in humanity," Dawson stated. "Art binds us together through life and passion. I see the world through artistic value."
Come out Sat., June 14 from 5-11 p.m. to meet Arthur Dawson, sample some great food and listen to live music all at Gallerie 909, 909 22nd St. S., St. Petersburg.